MINERALS, KEY ACTORS OF IMMUNITY
ISALTIS is designing and developing organic mineral salts having high bioavailability. Some of them are particularly critical for the immune system, in particular zinc salts.
You can read our white paper about immunity there :
https://www.isaltis.com/en/news/boost-your-immune-system-with-nutritional-solutions-white-paper/
ZINC AND IMMUNITY
Zinc is THE mineral of immunity. Weak immune defenses are directly correlated to zinc deficiencies, which are more and more prevalent in our modern societies. Zinc is an essential cofactor of the enzymes involved in immune defense. ISALTIS offers different zinc salts with different solubility and zinc content:
zinc gluconate

zinc citrate

zinc lactate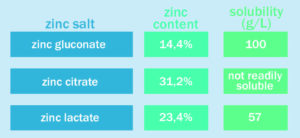 MAGNESIUM, VITAMIN D ACTIVATOR AND ANTI-FATIGUE ALLY
Beyond the pure immune function, it is important to guarantee the body a minimum of energy to fight against the surrounding infections. Magnesium deficiencies can cause fatigue and stress that decrease the body's immune response capacity. Magnesium is also activtaing Vitamin D, a crucial nutrient to fight against infections.
ISALTIS designs and manufactures several magnesium salts:
magnesium glycerophosphate

magnesium lactate

magnesium glucoheptonate

magnesium gluconate

magnesium citrate
Our ferrous gluconate can also be an ally for the body.
All these active ingredients can be used in nutrition (food supplements, drinks, food fortification, etc.). Most of them are also GMP Pharma certified and have a complete pharmaceutical file for use in medicine.
Our actives